LTER-CWN
establishing cutting-edge measurement sites for long-term ecological research
LTER-CWN, short for "Long-Term Ecosystem Research Infrastructure for Carbon, Water and Nitrogen", is the name of the new showcase project of long-term ecological research in Austria. With the help of the F&E Infrastructure Support Programme of the Austrian Research Promotion Agency (FFG), six sites all over Austria are expanded into highly modern, coordinated measuring stations. Under the leadership of the Environmental Sciences Research Network of the University of Vienna, the participating project partners focus on the effects of extreme climate events on the environment in their measurements.
The researchers specifically investigate the exchange of greenhouse gases between soils and air, the water transport and water availability, as well as the release of nitrogen from soils. The six LTER-CWN sites comprise all the main, characteristic types of near-natural ecosystems in Austria: woods, grassland in valley locations and the mountains, as well as wetlands and bogs.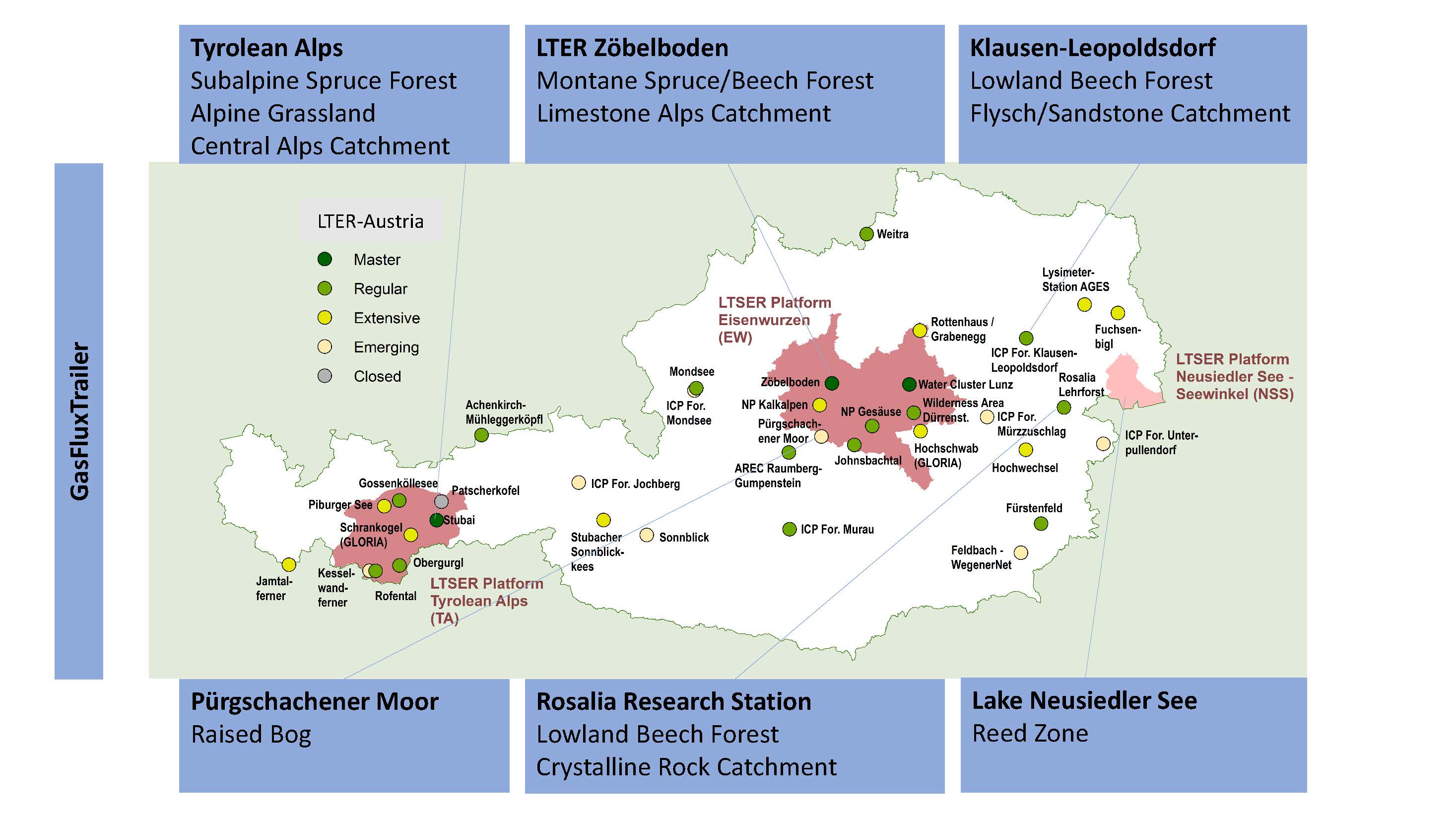 An enlarged view of the map can be found here.
This new lighthouse project places particular emphasis on the sensible and sustainable use of the highly modern infrastructure and the collected data. The participating project partners will share the data collected by means of identical measuring tools with one another and evaluate them together. The Environment Agency Austria and the Research Centre Jülich in Germany, both partners of LTER-CWN, establish an appropriate, joint database infrastructure. In addition, the participating project partners see great potential for cooperation with other scientists working in the area of ecological research. Thus, the obtained data packets are made available to the scientific community by means of a data portal.
In addition to the permanent observation for the purpose of basic research, scientists also conduct experimental research at the six measuring sites. There are plans to organise workshops and training courses for young researchers, to enable them to use the measuring instruments and thus promote joint projects with other research groups.
---
FUNDING AGENCY
of the LTER-CWN project