Zöbelboden (Master)
Operator: Environment Agency Austria (EAA)
DEIMS Database: Zöbelboden
Contact: Thomas Dirnböck, Johannes Kobler and Ika Djukic
Site description
The long-term monitoring and research area of Zöbelboden in the Upper Austria Kalkalpen national park is a part of the Integrated Monitoring Program of the United Nations, in the framework of the "Convention on long-range transboun­dary air pollution". In a Europe-wide network, ecosystems are investigated using state-of-the-art measurement instruments and standardized methods in order to document the current status, pollution situation and material flows and their alte­ration. In the course of this, material inputs (pollutants and nutrients) are measured in air and precipitation, the impacts and behaviour of these materials in the ecosystem comprehensively assessed and the outputs surveyed in surface water and groundwater. Integrated monitoring enables recognition of causal relationships in ecosystems in circumstances of changing pressures (pollutants, climate change). This provides the basis for predictions and the resulting need for action on environmental strategy. Monitoring is carried out in cooperation with the Upper Austria Kalkalpen national park and the Austrian Forestry Service Research cooperation with university and non-university institutions are an important aspect. In total, more than 100 monitoring and research projects have been and are being carried out at Zöbelboden. LTER Zöbelboden is a European ecological research site in the EU infrastructure project EXPEER and cooperates in diverse projects in the research framework program of the EU. Achieving increased use of infrastructure and long-term data, both at national and international level, is a major goal.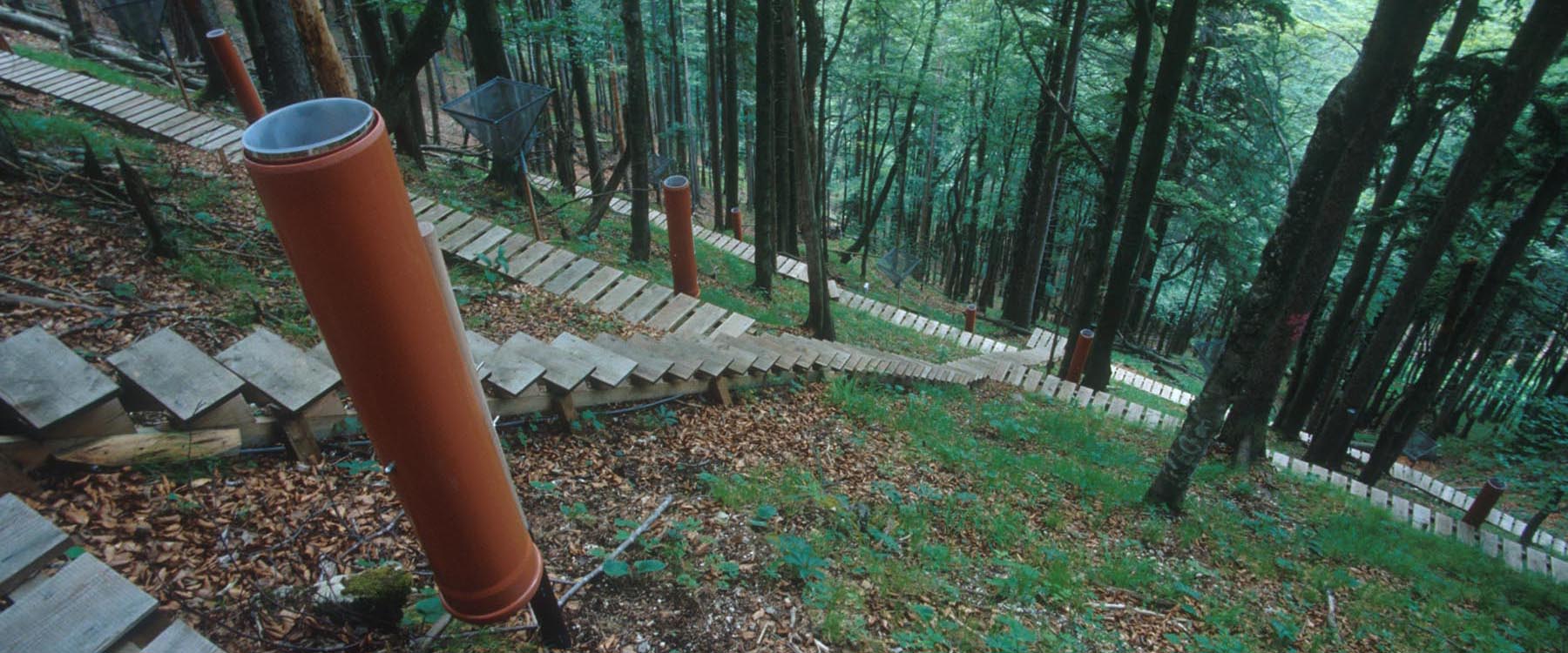 Fields of activity to date have focused strongly on the impact of airborne pollutants on forest ecosystems. The current on-going and future research fields comprise three themes that address contemporary environmental problems:
Zöbelboden is the best-equipped and investigated forested karst catchment area in Austria. The forest ecosystem represents important sites within the Northern Limestone Alps. Long-term research into karst systems are very rare and should com­prise a significant contribution by Austria to international research, since these areas are both ecologically sensitive and extremely important for drinking water supply.
Publications


Bringmark, L., Lundin, L., Augustaitis, A., Beudert, B., Dieffenbach-Fries, H., Dirnböck, T., Grabner, M.-T., Hutchins, M., Kram, P., Lyulko, I., Ruoho-Airola, T., & Vana, M. (2013): Trace Metal Budgets for Forested Catchments in Europe - Pb, Cd, Hg, Cu and Zn. Water, Air, & Soil Pollution 224: 1-14.


Dirnböck, T., Grandin, U., Bernhardt-Römermann, M., Beudert, B., Canullo, R., Forsius, M., Grabner, M.-T., Holmberg, M., Kleemola, S., Lundin, L., Mirtl, M., Neumann, M., Pompei, E., Salemaa, M., Starlinger, F., Staszewski, T., Uziębło, A.K. (2014): Forest floor vegetation response to nitrogen deposition in Europe. Global Change Biology 20: 429-440.


Dirnböck, T., Mirtl, M. (2009): Integrated monitoring of the effects of airborne nitrogen and sulfur in the Austrian Limestone Alps. Is species diversity a reliable indicator? Mountain Research and Development 29: 153­160.


Diwold, K., Dullinger, S., Dirnböck, T. (2010): Effect of nitrogen availability on forest understorey cover and its consequences for tree regene­ration in the Austrian limestone Alps. Plant Ecology 209: 11­22.


Hartl-Meier, C., Zang, C., Büntgen, U., Esper, J., Rothe, A., Göttlein, A., Dirnböck, T., & Treydte, K. (2014): Uniform climate sensitivity in tree-ring stable isotopes across species and sites in a mid-latitude temperate forest. Tree Physiology (in press).


Hartl-Meier, C., Zang, C., Dittmar, C., Esper, J., Göttlein, A., & Rothe, A. (2014): Vulnerability of Norway spruce to climate change in mountain forests of the European Alps. Climate Research, 60, 119-132.


Hartl-Meier, C., Dittmar, C., Zang, C., & Rothe, A. (2014): Mountain forest growth response to climate change in the Northern Limestone Alps. Trees, 28, 819-829.


Hartmann, A., Kralik, M., Humer, F., Lange, J., Weiler, M., (2012): Identification of a karst system's intrinsic hydrodynamic parameters: upscaling from single springs to the whole aquifer. Environmental Earth Sciences 65:2377-2389


Holmberg, M., Vuorenmaaa, J., Posch, M., Forsius, M., Lundin, L., Kleemola, S., Augustaitis, A., Beudert, B., de Wit, H.A., Dirnböck, T., Evans, C.D., Frey, C.D., Grandin, U., Indriksone, I., Krám, P., Pompei, E., Schulte-Bisping, H., Srybny, A., Vána, M. (2013): Relationship between critical load exceedances and empirical impact indicators at Integrated Monitoring sites across Europe. Ecological Indicators 24: 256–265.


Hülber, K., Dirnböck, T., Kleinbauer, I., Willner, W., Dullinger, S., Karrer, G., Mirtl, M. (2008): Long­term impacts of nitrogen and sulphur deposition on forest floor vegetation in the Northern limestone Alps, Austria. Applied Vegetation Science 11: 395­404.


Jandl, R., Smidt, S., Mutsch, F., Fürst, A., Zechmeister, H., Bauer, H., Dirnböck, T. (2012): Acidification and Nitrogen Eutrophication of Austrian Forest Soils. Applied and Environmental Soil Science, 2012: 1-9. DOI:10.1155/2012/632602.


Jost, G., Dirnböck, T., Grabner, M.-T. & Mirtl, M. (2011): Nitrogen leaching of two forest ecosystems in a Karst watershed. Water Air and Soil Pollution 218: 633–649.


Kobler, J., Fitz, J.F., Dirnböck, T., Mirtl, M. (2010): Soil type affects migration pattern of airborne Pb and Cd under a spruce­beech forest of the UN­ECE Integrated Monitoring site Zöbelboden, Austria. Environmental Pollution 158: 849­854.


Kralik, M., Humer, F., Papesch, W., Tesch, R., Gröning, M., Suckow, A. (in press). Mean residence time of karstwater in an alpine dolomite massif, Zoebelboden, Austria. Report, Umweltbundesamt GmbH, Wien.


Mayer, M., Pfefferkorn-Dellali, V., Türk, R., Dullinger, S., Mirtl, M., Dirnböck, T. (2013): Significant decrease in epiphytic lichen diversity in a remote area in the European Alps, Austria. Basic and Applied Ecology 14: 396-403.


Pröll G., Dullinger S., Dirnböck T., Kaiser C. & Richter A. (2011): Effects of nitrogen on tree recruitment in a temperate montane forest as analysed by measured variables and Ellenberg indicator values. Preslia 83(1): 111–127.


Römermann, M.B., Gray, A., Vanbergen, A.J., Bergès, L., Bohner, A., Brooker, R.W., De Bruyn, L., De Cinti, B., Dirnböck, T., Grandin, U., Hester, A.J., Kanka, R., Klotz, S., Loucougaray, G., Lundin, L., Matteucci, G., Mézáros, I., Oláh, V. & Preda, E., Prévosto, B., Pykälä, J., Schmidt, W., Taylor, M.E., Vadineanu, A., Waldmann, T. & Stadler, J. (2011): Functional traits and local environment predict vegetation responses to disturbance: a pan-European multi-site experiment. Journal of Ecology 99: 777-787.


Seebacher, D., Dirnböck, T., Dullinger, S., Karrer, G. (2012): Small-scale variation of plant traits in a temperate forest understorey in relation to environmental conditions and disturbance. Stapfia 97: 153-168.


Yee, T.W., Dirnböck, T. (2009): Models for analysing species' presence/absence data at two time points. – Journal of Theoretical Biology 259: 684-694.


Zechmeister, H.G., Dirnböck, T., Hülber, K., Mirtl, M. (2007): Assessing airborne pollution effects on bryophytes ­ Lessons learned through long­term integrated monitoring in Austria. Environmental Pollution 147: 696­705.